Ditanium takes the desktop vape to a new level, with dual modes, a natural hardwood design and pure grade 2 titanium. The beautiful design lures you in, but its unique function and quality vaping experience keep you coming back for more.
What makes the Ditanium vaporizer so unique?
It's one of the only vaporizers that can extract both waxy and dry material at the same time and with independent controls.
Let's take a closer look at what this desktop e-nail has to offer.
Ditanium Facts and Specs
Compatible with waxy, oily and dry material
Convection heating in dry mode
Hardwood body
Grade 2 titanium e-nail
Ceramic heating element
Maximum temperature of 900F
30-second heat-up time
Made in the U.S.
A Desktop Vaporizer for Dabs?
Ditanium impresses from the moment you unbox the product. Its design is eye-catching and modern. It's not discreet by any means (it is a desktop vape), but it can easily blend with your home's decor. Quartz nail and grade 2 titanium complete the look and house the vaporizer's ceramic heating element. LED lighting underneath the vaporizer sets the mood.
Ditanium is made in the U.S., so it's built to last. While it's not a huge vaporizer, it's still big and bulky enough that it will probably never leave your desk.
Dual Mode Function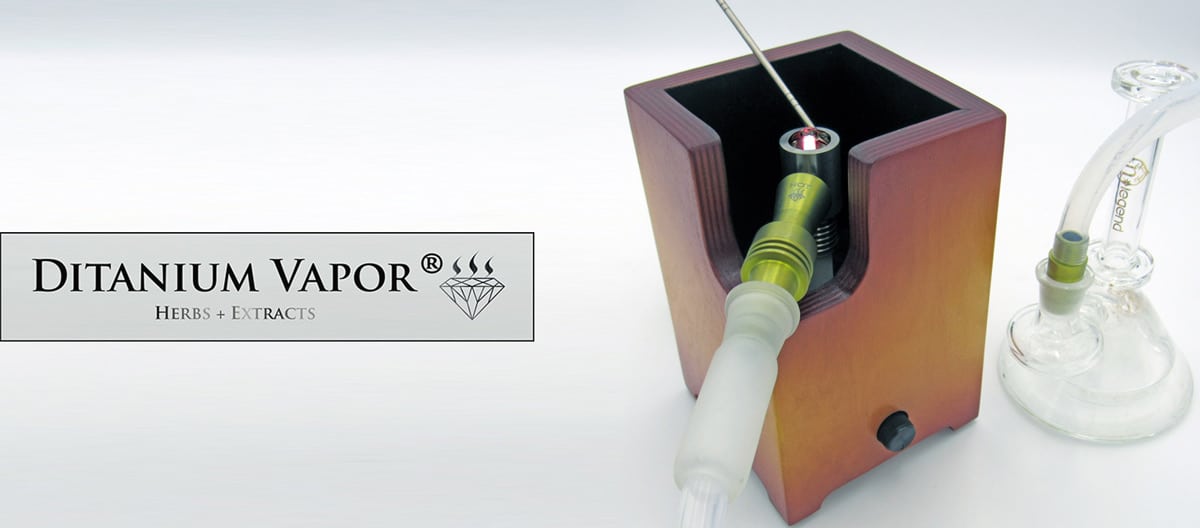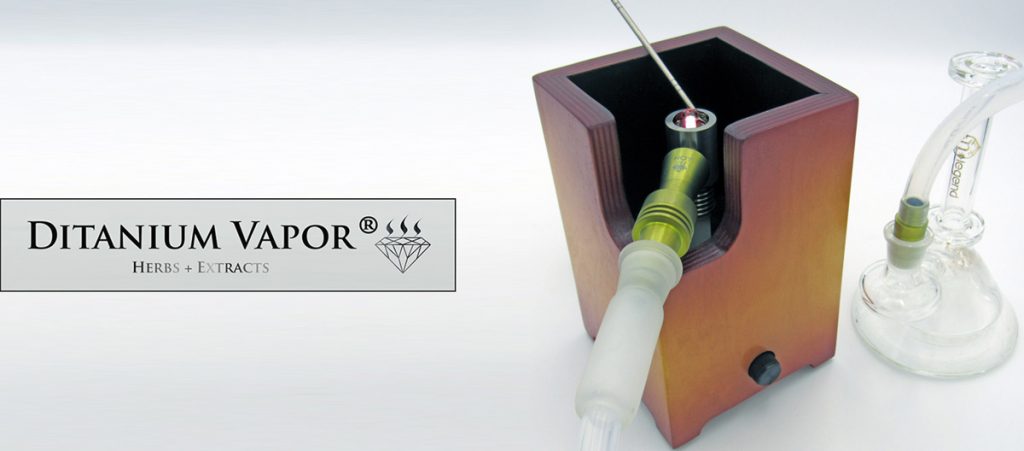 Here's the thing we love about the Ditanium: it can fully extract dry and waxy material at the same time and at two different temperatures.
Load dry herb into the hand piece for pure convection vapor
Load oily material directly onto the titanium and quartz heating element
Ditanium is one of the only desktop vapes out there that can successfully and simultanesouly extract concentrates and dry herb.
Quick, High Heat
Worried about heating power? Don't be.
The Ditanium can heat up all the way to 900F, and it takes less than a minute to reach your set temperature.
If you're thinking 900F is a bit extreme, you're not alone. But here's why the max temperature is so high: The temperature is measured at the dab dish. The dab dish area will always be significantly hotter than the heat that's hitting the dry herbs.
On the side of the vaporizer is an analog knob that adjusts the temperature:
10:30 to start vaporizing herbs and concentrates
Between noon and 1-o'clock is ideal for both flowers and dabs
The max temperature is really only needed for cleaning the quartz nail. At this high of a temperature, residue burns off pretty quickly. This makes cleaning a breeze after dabbing.
Temperature settings aren't precise, so there's a bit of a learning curve when using this vaporizer. If you follow the manufacturer's recommendations for dial positions, you should get the hang of it after just one or two sessions.
The titanium and quartz nail is completely heat saturated in about five minutes thanks to the ceramic heating element.
The heater is isolated from the loading chamber for better vapor quality.
Glass Connection and Silicone Whip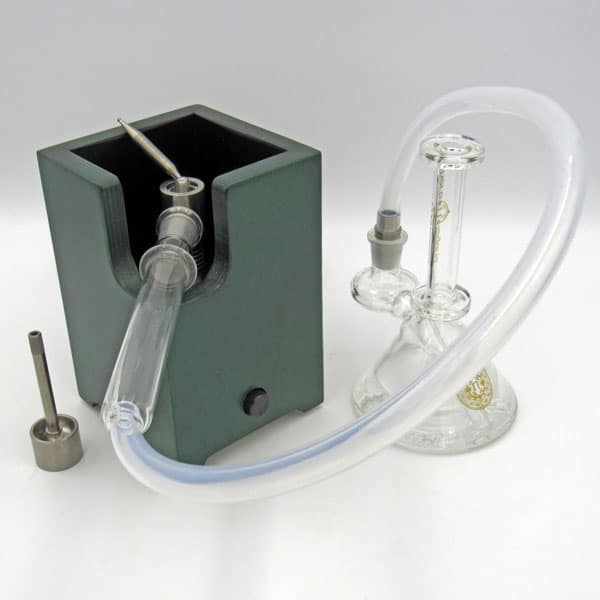 The Ditanium has a full glass connection with a silicone whip that's entirely hands-free. The titanium mouthpiece is tapered, so it fits 14mm female connections if you want to use a water pipe.
The whip has three parts: the silicone tubing, the glass wand and the titanium mouthpiece. The glass wand can handle 0.3 grams of herbs without missing a beat. You can also try the titanium wand for lighter loads. It has a smaller bowl and the herbs sit a little closer to the heat nozzle.
Easy Use
If you have any experience with a vaporizer, you won't have a problem picking up the Ditanium and using it right away. Even if you're a newbie, this vaporizer is easy to use.
Like with most other vaporizers, you'll want to do a burnoff session (for about 25 minutes) before vaping. The burnoff will condition the heating element and get rid of any unpleasant odors or tastes from manufacturing.
Here's what to do when you're ready for your first session:
For oily material, any temperature setting can be used, but 750F-900F is recommended for a complete turn. Just attach the glass hand piece to the vaporizer's heater and then add your material to the quartz area while inhaling.
For dry material, use the noon or 1-o'clock positions. Once heated up, fill the hand piece up to 1/2″ with dry material. Connect the hand piece to the heater and you're good to go.
Big Clouds, Tasty Vapor
The Ditanium's design and easy use are two major selling points, but what about vapor quality? That's what really matters. This vape impresses in this department as well.
Because of the way this vaporizer heats your material, it produces big, flavorful hits.
Dry herbs are only heated when you're ready to take a hit, and in between draws, the herbs have a chance to cool down. This means longer sessions, less waste and a better taste.
The glass, quartz and titanium materials won't alter the flavor of your herbs, so you enjoy a fresh taste every time.
What's in the Box?
Ditanium vaporizer
Titanium mouthpiece
Glass hand piece
Silicone tubing
Instruction manual
Who is the Ditanium Vape For?
If you want a desktop vaporizer that can handle both dry herbs and concentrates at the same time for intense sessions, the Ditanium is a good choice. In fact, it's one of the best choices out there.
Ditanium is a beast, but it's also a work of art. From the beautiful wood housing to the sleek titanium elements, this vaporizer is a conversation piece in its own right. The LED mood lighting adds to the experience and makes this vaporizer that much more eye-catching.
Of course, the wood housing isn't just there for looks. It's there to protect you. A lot of e-nails are dangerous because they get so hot so quickly and have exposed elements. The wooden housing solves this problem. You can still burn yourself if you're not careful though. The glass pieces can get a little hot, but that's not uncommon. Just use common sense and be smart about how you're using this vape and you'll be fine.
Where to Buy the Ditanium Vaporizer
If you're looking for an affordable desktop vape that works with a variety of materials, Ditanium is a great option.
But where can you buy it? We recommend buying from Puff It Up. Why?
Because they include a few extra free goodies, like a grinder, a titanium tool, silicone mat and free USPS Priority Shipping. Plus, Puff It Up also offers Ditanium accessories that you may want to add to your order.
The Ditanium can handle both dry herbs and concentrates at the same time – without compromising on flavor or function. That's really what sets this vape apart from others. It's one of the best dual-mode vapes out there, and it's an affordable desktop vape that you'll be using for years to come.