The most technologically advanced vaporizer in the world. That's how Herbalizer markets itself, and its loyal users would be inclined to agree. For medical use, this vaporizer offers many advantages that its competitors can't – one of those is speed.
Lightning fast relief is one attractive feature, but is Herbalizer really the best desktop vaporizer for medical patients? When did the Herbalizer come out, and is it really worth its high price tag? We'll answer these questions and more in our Herbalizer review.
How Does the Herbalizer Work?
If you're a 90s kid, you'll recognize the Herbalizer's design – it looks a lot like a Walkman. The lid flips up, too, to reveal this vaporizer's more advanced features.
This is nothing like the Volcano or other desktop vaporizers you're used to. Its design is ultra-discreet – people may mistake it for an essential oil diffuser.
The design is great, but that's not what you came here for – you want to know how well this thing performs.
When it comes to heat-up time, few other vaporizers can compete.
How long does it take to heat up? 30 seconds.
And it's incredibly easy to use, too. No matter whether you're using herbs, concentrates or essential oils, the process is the same:
Choose your mode (vaportherapy or aromatherapy).
Twist open the bowl.
Load up your material. If using herbs, pack loosely halfway up the bowl. If using concentrates or oils, place a few drops on the aromapad.
Set your temperature (more on this soon).
Choose your attachment: freestyler, whip or balloon.
The Herbalizer is one of the easiest vaporizers to use thanks to its advanced design.
An Intuitive Design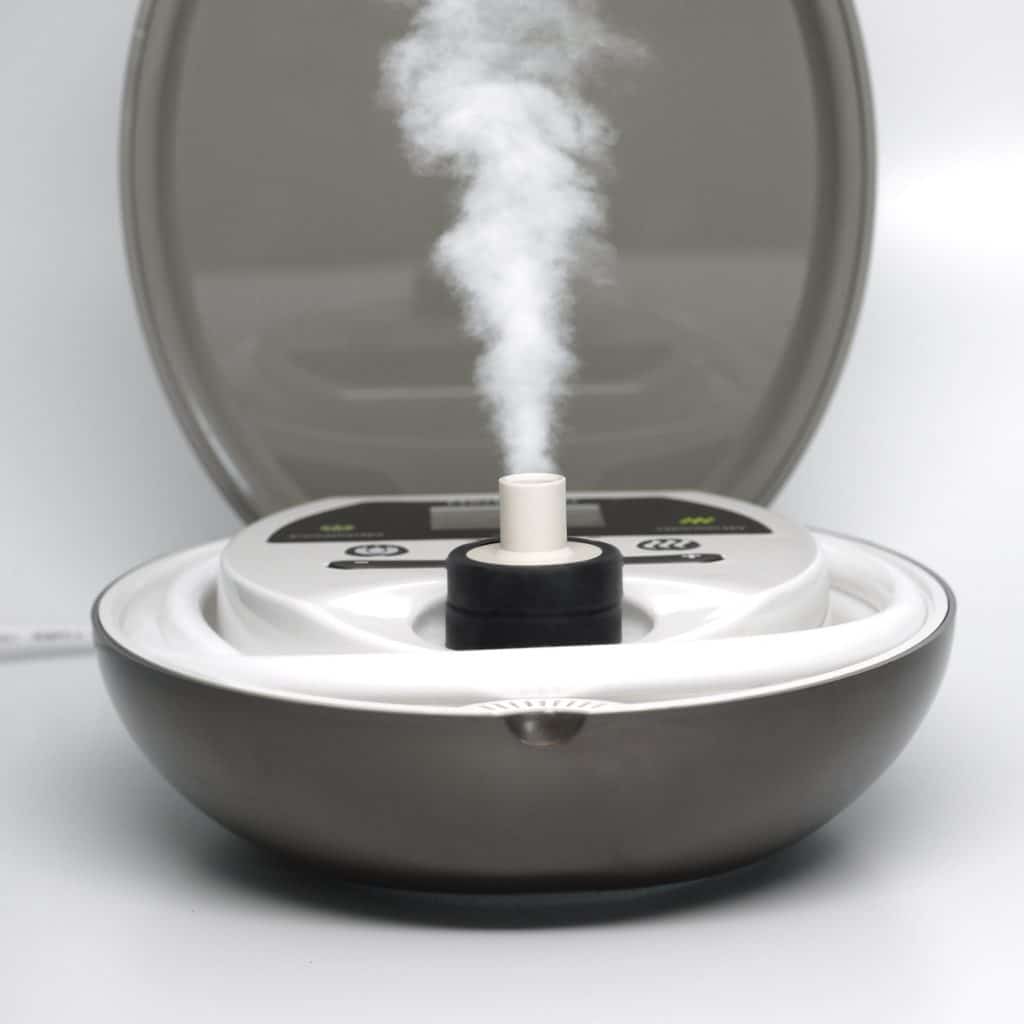 When you open up the Herbalizer, you'll first see a colorful LCD display that tells you important information, like your set temperature and any effects that you selected. There's an auto dimming feature, too, for comfortable use after dark.
A set of intuitive buttons lets you choose your mode (vaportherapy or aromatherapy), temperature and fan. You can activate the fan, too.
A separate button allows you to choose your desired effects according to the temperature you set. It takes 30 seconds or less to heat to your preferred temperature.
The bowl, located at the front of the machine, is magnetic, which makes it so easy to pop in and out.
Unless you're looking for it, you may not notice the medical grade silicone whip that wraps around the inner edge of the machine.
In between the load chamber and the lid is another compartment that gives you space to discreetly store your herbs or concentrates. There's also space to store your cleaning brushes, concentrate pads and herb grinder card.
Herbalizer Temperature Settings
The Herbalizer offers three temperature-based modes:
Intense: 390F-445F; for pain relief, relaxation, liberation and contemplation.
Balanced: 330F-390F; for euphoria, lifted mood and creativity.
Uplifting: 290F-330F; for centering, stress reduction, calmness and awareness.
But within these modes, you're free to choose any temperature you please. For medical purposes, this vaporizer's precise temperature settings allow you to choose the ideal setting for your herbs or essential oils. Plants release their essential oils at different temperatures, so you can avoid combustion by choosing just the right setting for your material.
The Herbalizer will heat your herbs within +/- 5 degrees Fahrenheit.
The Herbalizer vs Volcano
The Volcano is hands down the best known desktop vaporizer on the market, so how does the Herbalizer compare?
For medical users, there's no question that the Herbalizer is the clear choice.
Yes, it has a higher price tag than the classic Volcano, but this vaporizer offers better features and an overall better quality for medicinal patients (or even some percentage of recreational users).
Precise temperature control lets you choose the right level for your material to avoid combustion and maximize the benefits of the plant's essential oils.
The lightning fast heat up time (30 seconds) lets you enjoy faster relief.
Medical-grade components are of the highest quality.
Discreet design allows this vaporizer to blend seamlessly into your home's décor – or with your other electronics.
Offers two modes: vaportherapy and aromatherapy. Vaportherapy is designed for smoke-free delivery of concentrates and herbs, while aromatherapy is designed to fill the air with healing essential oils.
You have the option of using the whip, attaching a balloon, or going freestyle where the vapor just fills the room. And the manufacturer offers accessories and replacement parts for reasonable prices. It will cost you less than $40 to buy an Herbalizer bag replacement.
Compared to the Digital Volcano, the Herbalizer just misses the mark in terms of performance and value, but comes in close.
The digital version of this famous desktop vaporizer gives you more options in terms of temperature control and how you use the vapor. For most recreational users, the Volcano will be the better buy simply because of lower price.
Where to Buy the Herbalizer Vaporizer?
You're ready to dive in and give this vaporizer a try, but where can you find the Herbalizer for sale?
As of 2019, you can no longer get the Herbalizer from official channels.
Click here to get your coupon.
Why You Should Buy Your Herbalizer from eBay
If you search on eBay, you'll find plenty of Herbalizers for sale – lots of them are offered at great prices. It can be tempting to buy from eBay's marketplace (who doesn't want to save money?), and if you have ever wanted to own an Herbalizer, eBay is your last chance to grab one.
For medical users, it's hard to beat the ease-of-use, quick heat-up time and quality of the Herbalizer vaporizer.
Click here to see for yourself why patients love the Herbalizer vaporizer.