3 Reasons Why 7th Floor's SSV Is the Best Value in Home Vaporizers
Think you've seen it all when it comes to vaporizers? Think again.
The folks at 7th Floor are looking to revolutionize the vaporizer industry, but do they really offer finest vaporizer?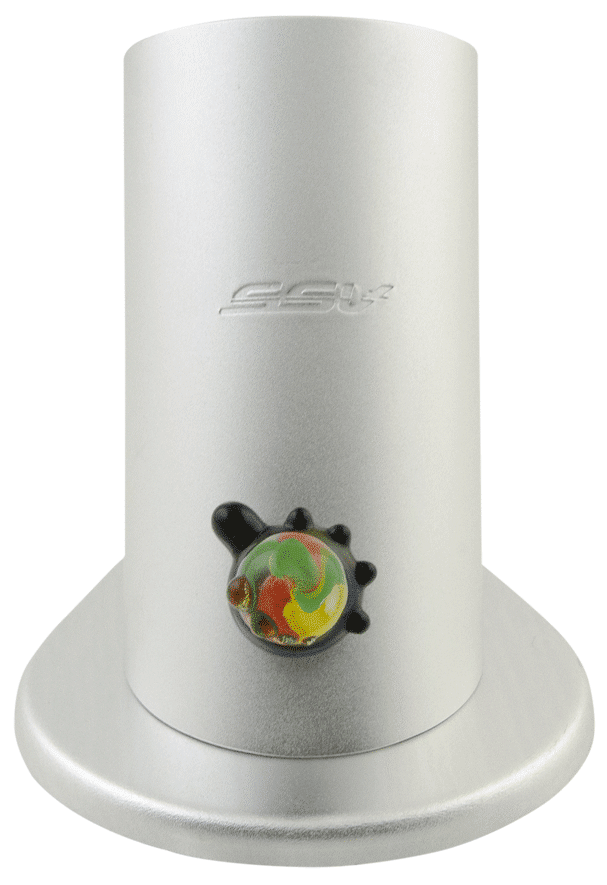 Is the Silver Surfer vaporizer worth the cost?
Here are three reasons why I think the SSV offers the best value in home vaporizers.
1. A Superior Vaping Experience
The Silver Surfer is the only vaporizer that uses an all ceramic heating element. Why is this important? Ceramic heaters are more durable than typical heating elements, and they heat more evenly, too.
But it's not just the ceramic heater that creates a superior vaping experience; it's the location of the heating element.
Other wand-style vaporizers allow all of the heat to pass through connections and wires inside of the unit. With the Silver Surfer, all electronics and hot metal elements are out of the air's pathway. The result? Pure, clean vapor.
Because of the position of the heating element, the material is heated first, and by the time the vapor reaches the screen, the air is no longer hot enough to produce metal fumes.
After using this vaporizer dozens of times, I can confidently say that the vapor is the cleanest and richest I've ever experienced.
Let me break down how the vaporization process works with the SSV, so you can better understand where I'm coming from.
First, air is inhaled through the hole in the glass heater cover. Next, the all ceramic heating element heats up the air to the temperature you choose. Finally, the heated air passes through the glass heater cover and up into the glass wand. The slower you inhale, the higher the temperature.
Pro Tip: The quicker you inhale, the cooler the temperature.
No other home vaporizer – not even the Volcano – offers the same internal design. The SSV has the cleanest, purest vapor you'll find.
2. Truly Customizable
7th Floor vaporizers are the only vaporizers on the market that are completely customizable. The personalization that comes with the SSV is one of the things that drew me to this vaporizer in the first place. I also loved the fact that there are so many accessories to choose from.
Silver Surfer Designs


As far as designs go, you have plenty to choose from. If you don't like any of the ones that 7th Floor offers, you can choose to create your own. That's exactly what I did, and I couldn't be happier with it. But before I get into that, let's talk about the pre-made designs that you can chose from.
There are three different design types: artist, band and in-house.
The in-house designs are more psychedelic in nature, but you'll find a few that aren't, like the Rasta Wave Rider that features a lion's face. There are lots to choose from in this category, and you'll find plenty of high quality designs.
The artist series offers unique and interesting designs from an ET-themed design to Space Mountain, Swamp Goddess and more. Again, there are plenty to choose from here, and the designs are top-notch.
The band designs are pretty self-explanatory. Keep in mind, though, that the bands featured are all metal bands.
Of course, 7th Floor also offers solid color options as well, including: silver, red, black, green and blue.
Custom Designs
If none of these designs are really your style, you can choose to customize your own design, which is what I did. A custom design will cost you more and there are a few added steps, but the end result is well worth the effort.
Before the company will create your design, they need to see and approve the image you want. A 300dpi image is required. Also, you need to either own the rights to the image or have created it yourself.
Personalized Options
Aside from the look of the vaporizer, you can also customize other components. When ordering my SSV, I was able to select:
Voltage: Options are available for North America, Europe, the UK and Australia.
Baseplate color: Black, purple, green, red, blue, yellow and silver.
Heater cover, or wand type: Ground glass, spherical ground glass, or flavor oil e-nail kit (allows you to use essential oils).
Hose color: Black, blue, lime, clear, purple, magenta, red and yellow.
Glass aroma top: Optional and comes at an added cost. If you choose to add one, you can choose from a selection of free wax melts.
Vapor tamer: Optional and comes at an added cost. This option includes the vapor tamer, hose adapter, ground glass mouthpiece and metal clips.
I was blown away by all the options that were available. On top of all these options, 7th Floor also includes a ton of accessories with your purchase.
Included Accessories
Along with the vaporizer itself, I also received:
1 free handmade glass pick
1 handmade heater cover
1 handmade blown-glass temperature knob
1 whip kit with a quick-change wand, clear glass mouthpiece and vinyl tube (food grade)
1 padded travel bag
3 replacement screens for the wand
The included accessories are just the start. The company also offers a ton of additional accessories that you can also buy.
Silver Surfer Accessories
---
---
If the included accessories aren't enough for you, you'll be happy to learn that 7th Floor offers plenty of vaporizer mods and glass accessories that lets you truly customize your vaporizing experience. You can also buy Silver Surfer vaporizer parts through the company.
What accessories are offered?
Picks: Including titanium, stainless steel, glass (with fun animal shapes), striped glass, skulls, glass switchball and quartz.
Screens: Including grinders, regular screens, ceramic flavor discs and uniquely designed screens.
Wax and oils: Including glass aroma tops, wax melts, scented oils and doTERRA essential oils.
Storage and dime bags: Including ground glass jars, duff jars and a variety of travel bags.
Grinders: Includes multiple sizes and designs.
Herbs: Including a variety of herb blends and single herbs, such as motherwort, lavender, licorice and hops.
Cleaners, replacement parts and more.
As far as glass goes, there's plenty to choose from, including:
Wands and heater covers: Includes custom and pre-made designs from hand-blown glass.
Mouthpieces
Knobs
E-Nail kit
Custom glass kits
Adapters
Glycerine vapor tamers
Vapor cooling
Trays
Enjoy Glassworx
There are a dizzying array of accessories and glass available, so you're sure to find something that suits your personality and your needs.
3. Easy to Use
Other vaporizer companies make their products complicated or difficult to use. But 7th Floor's vaporizers, including Da Buddha and Life Saber, are easy to use.
Let me demonstrate by walking you through the process of using the SSV.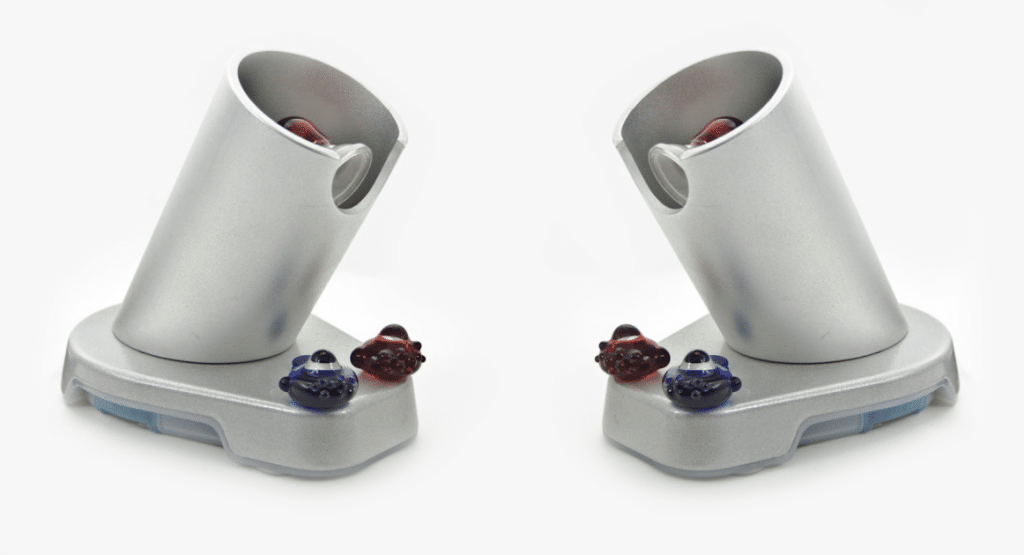 The SSV arrives in a padded travel case, which protects the vaporizer and its components. I love the included case, and it's something you can take with you without anyone even knowing what you're carrying.
First, you'll need to unpack the SSV. The vaporizer itself will be stored in the main compartment, while the whip and mouthpiece are stored in the compartments under the lid.
Next, you'll want to unwrap the cord, plug it in, and turn on the vaporizer. Turn the temperature knob all the way to the right to heat things up. The first time I turned mine on, I did have some oils and residues that burned off and created a little smoke. Just keep in mind that this is perfectly normal, and you want to burn these components away, so that your vapor stays pure.
The next thing you'll want to do is assemble the whip and make sure that your knob and heater cover are properly attached. I didn't have an issue with this step, but if you do, 7th Floor has a video on their site that explains this process in-depth.
Once you have everything assembled, it's time to grind your herbs. At this point, you can go ahead and vacuum them up into the wand.
Before you get started, I recommend turning the heat down to the halfway mark. This way, your herbs won't overheat early on. If you take slow and long draws, the herbs will heat up faster. If the temperature is too high, you may wind up scorching them. On the other hand, if you take quick and light draws, the temperature will be cooler, and you may need to increase the temperature. Keeping the knob in the middle gives you a chance to see which direction you need to go to have the best experience possible.
Now, place the wand up to the heater cover, make sure it's tightly sealed, and inhale. After each draw, you want to use the included pick to stir the bowl. This ensures that your herb is heated evenly.
When it's done, you'll notice that your herbs don't produce any more vapor and that they've changed to a brown (or dark brown) color. Now, you can stir the wand to dislodge any stuck-on herbs, and unload into your duff jar.
---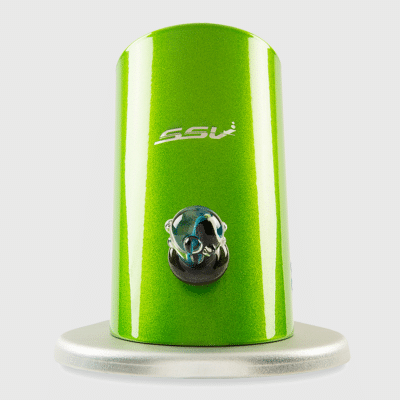 Using Essential Oils
If you plan on using essential oils with the SSV, you'll need an oil diffuser. The diffuser is placed on top of the vaporizer and you simply add the scent of your choice.
For best results, I recommend turning the temperature down to about 1/4 power, so the diffuser can hold onto the heat.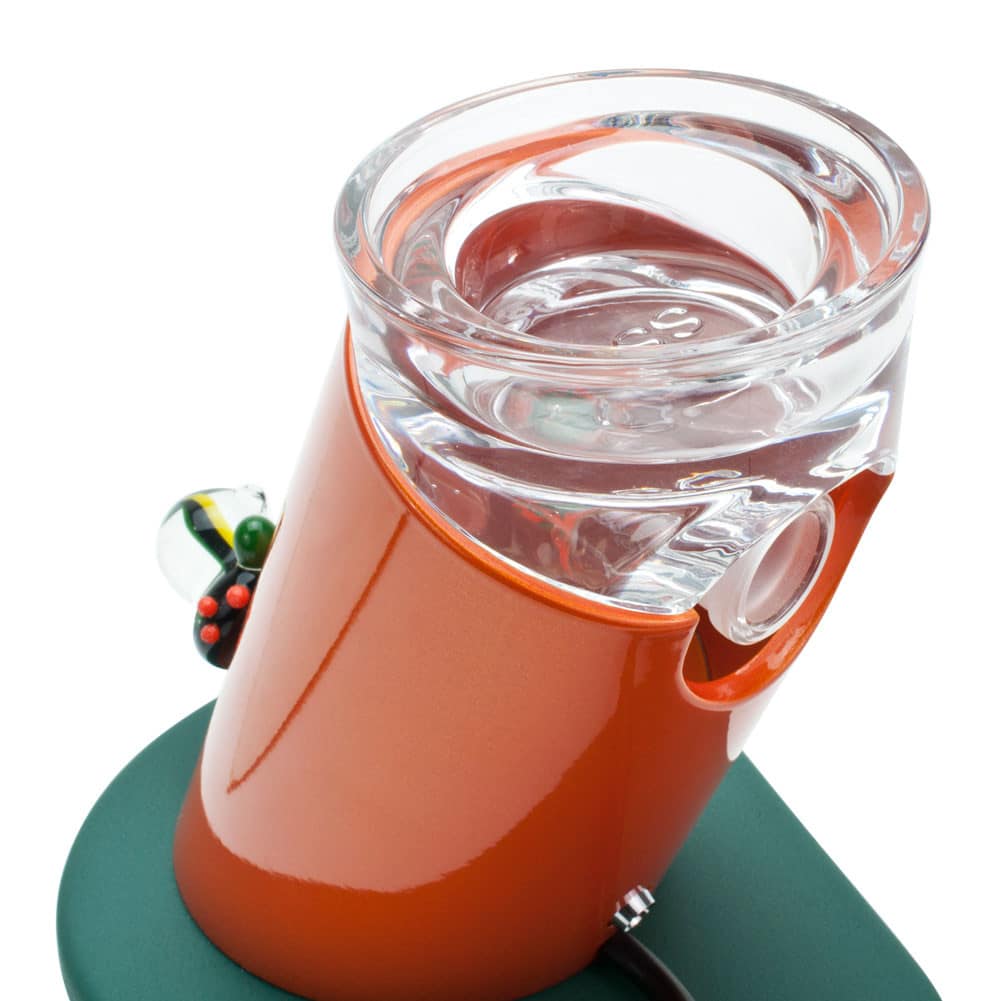 The diffuser is a great add-on, and I highly recommend it if you enjoy aromatherapy from time to time. The only thing you want to be careful with is mixing hot and cool surfaces. For instance, if you place cold oils on the hot diffuser, it may cause it to crack. The same thing can happen if you remove the diffuser and place it on a cold surface. Just be mindful of this when using the diffuser, so you don't have to wind up replacing it prematurely.
---
Cleaning and Maintenance
Cleaning and maintain the SSV is easy. The company offers numerous cleaning products and tools that will help keep your unit and accessories in tip top shape. I've found that because the SSV uses high-quality parts and glassware, I don't have to clean the unit as often as I did with other vaporizers – including portable models and the Volcano.
No Silver Surfer vaporizer review would be complete without talking about the vaporizer's warranty. The SSV comes with a generous standard 3-year warranty, so your purchase is protected. Just keep in mind that if you decide to replace the vaporizer's parts yourself, you will void the warranty. 7th Floor will repair your unit for you, so I recommend going this route if something does break.
The SSV offers pure, clean vapor, an all-ceramic heating element, a truly customizable vaporizing experience, and is constructed with top quality materials. At a price that's comparable with other well-known desktop vaporizers, the SSV offers the best value in home vaporizers – hands down.
It's easy to use, portable, and 7th Floor offers fantastic customer service. You'd be hard pressed to find another vaporizer that offers this type of quality at this price point anywhere.
---
Silver Surfer Vaporizer Reviews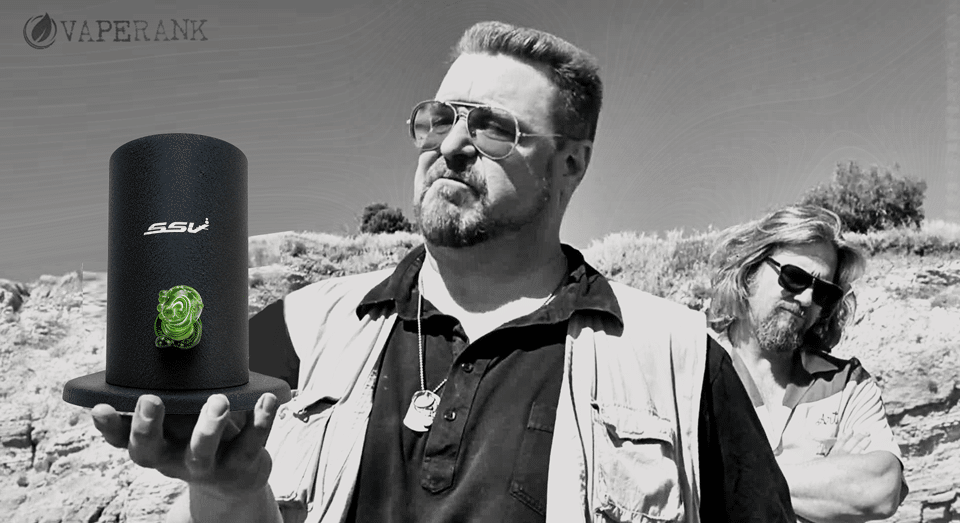 As a medical patient, I have tried many different desktop vapes. As a professional, I give the Silver Surfer my highest recommendation. The SSV is smooth looking, long-lasting as well as giving a very, special magical vape.
I own 10+ vaporizers and this one is my daily driver for sure! I own all three heater cover styles and like the ground spherical glass the best with the hands free attachment stirring my blends every three [draws].

This thing produces huge amounts of dense vapor!!!

It does have a learning curve to get a good draw but ounce you get the hang of it this thing is amazing 10/10!
So glad someone finally has a made a simple, high quality vapor product that is made in the USA.